By: Abby Stassen
At Full Sail University, finding your tribe is just as important as your course of study. Luckily, Full Sail's campus in Winter Park, Florida offers a variety of student clubs, events, educational facilities, and casual campus spaces where you can connect with other creative students. 
Full Sail University's Student Clubs 
Student Community Association: This club celebrates the university's diverse student community with campus events, like open mic nights and block parties. It also works with other campus organizations – the Student Community Association recently joined forces with the Black Student Union to host the 2023 Juneteenth Block Party. 
Black Student Union: Full Sail's Black Student Union seeks to motivate and educate Black students. It's an empowering setting open to all campus and online students, featuring forums, presentations, events, and other programs. It also provides a backdrop for relaxed socializing and networking, like karaoke socials and game nights.  
International Student Society: This organization supports Full Sail's diverse international student population. It's a multicultural networking club that hosts open meetings, social activities, monthly mentorship orientations, and family-style holiday celebrations for both campus and online international students. 
Veteran Student Union: Military veterans attending Full Sail can connect through the Veteran Student Union. The club supports students who are transitioning from military life to student life, and campus students can connect and learn more about veteran benefits in Full Sail's Military Student Success Center. 
Cosplay Club: Students share their passion for their favorite pop culture, anime, and gaming characters in the Cosplay Club. The club hosts regular meetings and workshops where students can share their latest costume creations; Full Sail's cosplayers have also enjoyed trips to MegaCon and Spooky Empire. 
Armada: Full Sail Armada is the university's collegiate esports organization. Armada teams compete in games like Call of Duty, League of Legends, and more; Armada also hosts tournaments and friendly get-togethers. 
Full Sail University Events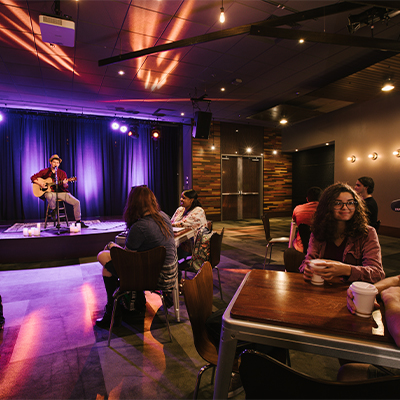 Hall of Fame Week: This weeklong event features panels, creative activities, networking events, and more for Full Sail students and graduates. It culminates in the Hall of Fame ceremony, where six distinguished alumni are inducted into the Full Sail University Hall of Fame. 
Halloween: Full Sail's annual Halloween events celebrate spooky season with themed costume contests, photo booths, games, raffles, prizes, and more.
Pie Day: Full Sail honors Breast Cancer Awareness month with this annual fundraiser, where the university community raises money for the American Cancer Society. 
Award Celebrations: The Full Sail community comes together for red-carpet affairs on Grammy and Oscar nights to honor the grads credited on nominated projects. 
Esports: Esports tournaments featuring collegiate and professional leagues, as well as Armada club gatherings, are hosted in the Full Sail University Orlando Health Fortress.
Full Sail University's Facilities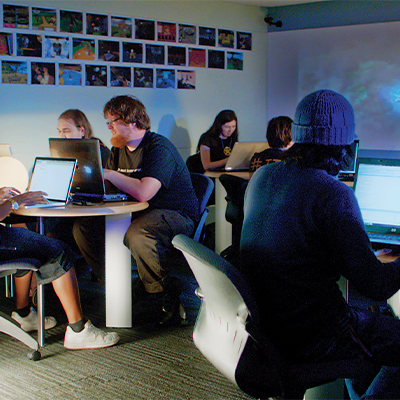 3D Arts Center & Traditional Art Studio: Students studying visual arts and animation can build relationships with other artists and use industry-standard equipment to work on their projects in these facilities. 
Studio V1: Virtual Production: Full Sail's $3-million virtual production studio is one of the most technologically advanced campus studios in the country. Virtual sets are displayed on a 40-foot-wide, 16-foot-high LED volume wall with a 16x16-foot retractable ceiling, creating "on location" backgrounds for student films and professional projects. 
Film Backlot: Full Sail's Hollywood-style Backlot features building facades like New York City brownstones and Seattle's Pike Place Market, as well as a gas station set and other backdrops for film projects. 
Blackmoor Game Studios: This collaborative area mimics a professional game studio, with conference rooms, office spaces, and presentation areas for game students to build and show off their projects. 
Full Sail University Orlando Health Fortress: Full Sail Armada's campus home is the Fortress, a premier esports arena where up to 100 esports athletes can compete in front of 500 spectators. 
Campus Hangout Spots at Full Sail University
Zackley's: Students can sit with their classmates and enjoy wood-fired pizza, sandwiches, and desserts at this on-campus eatery. 
Jet Fuel Café: Full Sail's campus coffee shop is the perfect place to collaborate over caffeine or grab a cup on the go.   
Entertainment Business Lobby: Students can connect for quick study sessions and admire display cases filled with Grammys, Oscars, and other alumni awards in this meeting area. 
The Treehouse: Full Sail's student-run live performance venue is a hotspot for open mic nights, talent shows, guest speakers, live music sessions, university parties, and more. 
Activities & Housing Near Full Sail University's Campus
There are options for dining, entertainment, shopping, and outdoor activities within a few miles of Full Sail's campus in Winter Park. Find out more here.
If you're looking for housing near Full Sail, the university has relationships with more than 30 apartment complexes within a five-mile radius of campus. Find out more about housing here.