By Abby Stassen
Full Sail University's art and design degrees are a top choice for creatives, and with good reason: The university's programs have earned spots on multiple accolade lists from industry publications. Full Sail has landed on Graphic Design USA's "Top Design Schools" list four times, and in 2022, the university was recognized as one of the "Top 50 Graphic Design Schools and Colleges in the U.S." by Animation Career Review.
Full Sail's art and design bachelor's and master's degrees offer real-world experience through hands-on learning, both on campus and online. This educational approach has helped Full Sail graduates succeed in visual arts careers.
Art & Design Degree Programs at Full Sail University
Full Sail's programs in art and design offer project-based courses that prepare students for success in the working world. Students in each degree program build their own projects to create a professional portfolio. The university's career-focused degrees include: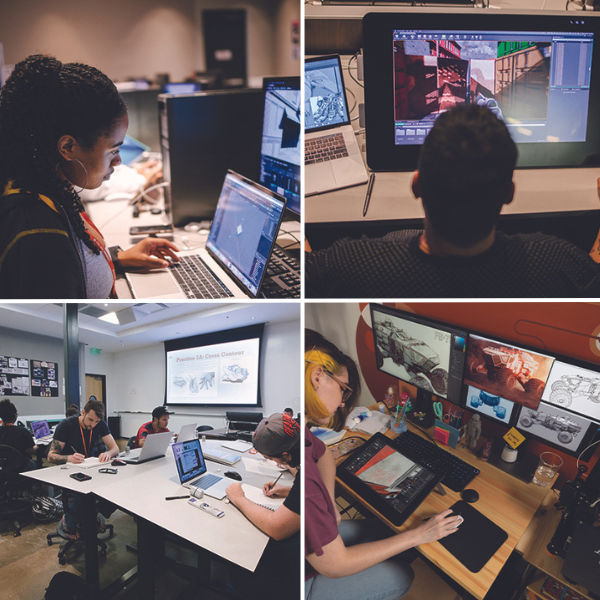 Successful Full Sail Art and Design Graduates
Graduates from Full Sail's art and design programs have found success in the visual arts in a variety of industries.
Full Sail's Digital Arts & Design program teaches students how to create motion graphics and 2D and 3D animations for established brands. Graduate Brett Novak used his Digital Arts & Design degree to create visual effects on music videos for artists like Beyoncé and Lady Gaga; he later branched out with his own video production brand and received multiple awards at international film festivals. Graduate Adaora Nwangwu's degree helped her earn tech-industry accolades: She was a recipient of Scholly's Google-sponsored Women of Color in Tech Scholarship and was a Leads by Design fellow.
Full Sail's Computer Animation bachelor's program helps student develop artistic skills in key animation disciplines to create 3D content for any type of production. Graduate Chance Glasco creates art for the video game industry: He specializes in the animations for weapons in the Call of Duty franchise. Animation graduate Jack Geckler has worked as a Lead Crowd Artist for Walt Disney Animation, where he worked on movies like Encanto, How to Train Your Dragon, and Hawkeye. Fellow Computer Animation graduate Phil Ellering produces and creates animations for The Reality Capture Network Podcast, a tech-savvy show about the 3D technology industry. He also writes and illustrates his own children's book series.
Students in Full Sail's Game Art program learn fundamental and advanced 3D art skills like production workflows, character animation, environment assembly, and how to use game engines. Those skills can be used in industries like gaming, architectural visualization, simulations, film, and more. Game Art graduate Jason Hutchins designs training modules for Air Force pilots and crew members as a Visual Database Engineer at CAE.
Full Sail's Graphic Design degree program teaches students skills in branding, user experience, and interactive media to help them create brand experiences for businesses. Graduate Kevin Ramoo leads the design department at Super-Pharm, Trinidad and Tobago's leading pharmacy and convenience chain.
Additional Full Sail graduates have made their mark in industries like technology and film. Graduate Chris Kelley uses his Art & Design education from Full Sail to work in the tech field. He currently works on Google's augmented reality projects as a User Experience Design Lead. Graduate Culley Bunker is the Founder and Lead Visual Effects artist at Skulley FX, a postproduction studio. His team has worked on productions like The Hunger Games: Mockingjay Parts 1 & 2, Westworld, and Donnie Darko.
Graduates from Full Sail programs like Computer Animation, Game Art, and Graphic Design have worked on art in the video game industry. Over a dozen graduates contributed to the hit game Halo Infinite and more than 150 graduates worked on nominees at the 2021 Game Awards.
Interested in Art and Design?
Explore Full Sail University's art and design programs here.
You can also sign up for a campus Behind the Scenes Tour and learn about relevant student scholarships in the Scholarship Guide.