A behind-the-scenes look at a real-life residential school
Interlochen Arts Academy students and education leadership share an unfiltered glimpse of life at a boarding school—and explain why you should attend one.
(Images courtesy of Interlochen Center for the Arts)
Since the Victorian era, boarding schools have been a recurring theme in books, television, films, and video games. 
But while boarding schools may seem like a fictional trope for content creators, they're a very real educational option: Each year, approximately 35,000 U.S. students choose to study at a boarding school. 
With so many pop-culture portrayals of boarding school, you may be wondering what boarding school is really like. To help you separate fact from fiction, we asked students and administrators for a behind-the-scenes glimpse of Interlochen Arts Academy, one of the nation's top boarding schools for young artists. 
Laying the Groundwork: What is a boarding school?
First thing's first: What is a boarding school?

A boarding school is an educational institution at which students live while pursuing their studies. During their time at boarding school, students reside in dormitories or residence halls on the school's campus and only return to their homes for school breaks. 
It's important to clarify that while most colleges and universities fit the definition of a boarding school, the term generally refers to schools for elementary, middle, or high school students. 
Busting the Myths: What is boarding school like?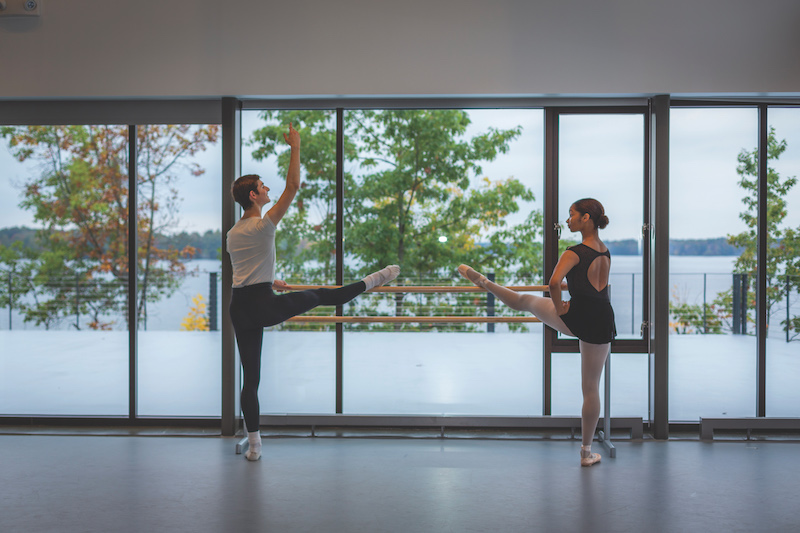 Forget about sneaking out after curfew: unlike your favorite fictional characters, real-life boarding school students have to contend with the watchful eyes of residence hall staff and campus safety officers. But even without midnight shenanigans, you'll still have lots of fun—and learn a lot—at a boarding school. Here's what it's actually like to attend one.
A Typical Day
Surprisingly, a typical day at boarding school isn't too different from a day at a local public or private school. 
Depending on your schedule, your daily activities will begin sometime between 7 and 9 a.m. and end between 3 and 6 p.m. Most of this time will be spent in academic classes or extracurricular activities, although you may also have free periods for studying or meeting with instructors.
If you choose to attend a specialized school, you'll likely have time for your area of interest built into your schedule. Interlochen Arts Academy's "Arts Block" is a great example. During Arts Block, Academy students spend three hours engaging in classes, rehearsals, lessons, and master classes related to their chosen artistic discipline.
Boarding school students are generally allowed to spend their outside-of-class time however they wish. Most students choose to spend their evenings and weekends studying, doing homework, hanging out with friends, or participating in extracurriculars. 
Extracurricular Activities 
Outside of the classroom, you'll be able to pursue your interests through extracurricular activities such as art classes, music programs, athletic teams, and student clubs.
At Interlochen Arts Academy, students enjoy a variety of opportunities, including five sports teams and student-run clubs. 
"Student organizations are a great way to explore your interests, try new things, and make friends outside of your classes," says Interlochen Center for the Arts Provost Camille Colatosti. "And if you can't find a club that interests you, you're welcome to start your own."
Arts Academy students have taken Colatosti's invitation to heart: the Academy has more than 30 student organizations, ranging from academic-based clubs such as Model UN and Quiz Bowl to arts-based groups including the Stage Combat Club and the Hip-Hop and Jazz Club.
Dorm Life
The dormitory experience is what distinguishes boarding schools from other educational institutions. Beyond the convenience of living on campus at your school, dormitory life provides a variety of benefits, including full immersion in your school's community and the opportunity to build life and interpersonal skills. 
As a boarding school student, you will likely share your space with one or more roommates—which is great preparation for living alongside your peers at the college level. 
"While living with a stranger can be a challenge, it's also a wonderful opportunity to gain new perspectives and form a lifelong connection," says Interlochen Arts Academy Vice Provost of Student Life Megan Walton. "Your roommate is often one of your first friends on campus, which can help ease your transition to life at boarding school."
Although boarding school students are expected to be independent, you won't be alone. Your on-campus support system includes school nurses, academic and college counselors, faculty, and mental health counselors. Residence halls are staffed 24 hours a day by a team of hall staff and dorm parents, who will provide structure and accountability; help you mediate conflicts with your roommate; teach you how to do your own laundry; plan activities to help you bond with your peers; and more. Interlochen Arts Academy's Instructors of Residence Life also lead the Academy's unique social-emotional learning program, The Interlochen 5. 
Boarding school students eat their meals in their school's dining hall or cafeteria. Most cafeterias offer a diverse menu to provide variety and accommodate common dietary restrictions, such as vegetarian, vegan, gluten-free, or dairy-free diets. Many schools also have a cafe, snack shop, or campus store where you can buy meals and treats. 
Recreational Activities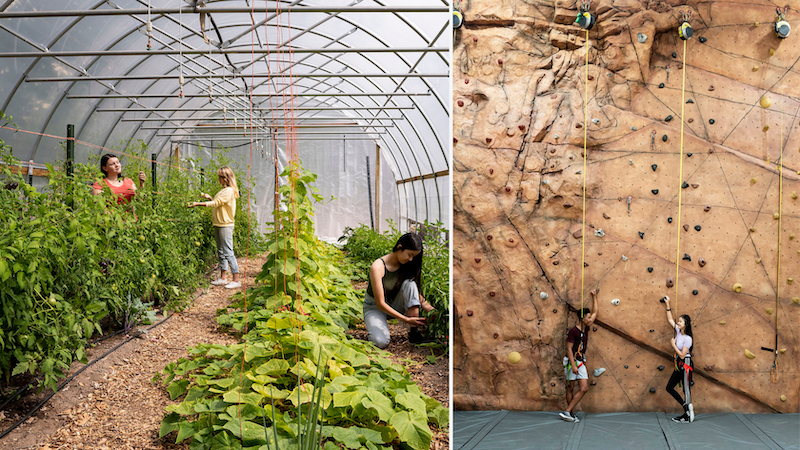 Ready for a study break? At boarding school, students will find plenty of recreational activities to stay entertained outside of class. 
Students at Interlochen Arts Academy can choose from a wide range of activities, including intramural or club sports leagues, off-campus excursions, holiday parties, bowling nights, dances, and more. Academy students also enjoy attending their peers' performances and exploring Interlochen's scenic 1,200-acre campus.
"At Interlochen, we're surrounded by lakes and trees, so I love to go take a walk in the woods," says senior bassoon major Lucca Caise. "There's something so relaxing about it. We're privileged to have this natural beauty in our backyard." 
The majority of boarding schools have rich and storied annual traditions which provide opportunities for fun and school spirit. Arts Academy students enjoy a variety of annual events, such as the inter-hall competition House Clash; the Run for the Arts 5K; MORP, Interlochen's version of prom; and Festival, a multi-day series of student performances, showcases, and exhibitions culminating in Honors Convocation.  
Staying Connected
Living apart from your loved ones is one of the most difficult aspects of attending a boarding school. Boarding schools understand these challenges and provide a variety of unique ways to help you keep in touch with friends and family back home. 
"We encourage parents and guardians to stay connected, both with their student and with the school, during their young artist's time at Interlochen," Walton says. "Each week, we send an email newsletter to our students and their families to keep everyone informed about what's happening on campus." 
"We also invite parents and guardians to join us for performances and our fall Family Weekend. Parents who are unable to visit campus in person can schedule virtual appointments with their student's instructors and can tune into many of our performances via live webcast."
Of course, there's no substitute for spending time with loved ones face to face. As a result, boarding schools provide long breaks, which enable students to return to their homes. Like non-residential private or public schools, boarding schools are in session approximately nine months out of the year, with a lengthy summer break separating academic years. Interlochen Arts Academy students also have three additional breaks: a weeklong fall break; a two-and-a-half week holiday break; and a two-week spring break.
A Worthwhile Investment: What are the advantages to boarding schools?
Sure, going to boarding school is fun. But beyond the thrill of living away from home, are there any advantages to boarding school? The answer is a resounding yes.

"Whether you want to focus on arts, athletics, or academics, boarding schools offer students a variety of advantages over traditional public or private schools," Colatosti says. "These advantages include small class sizes, exceptional faculty, the fostering of lifelong friendships, the opportunity to develop independence, and the ability to specialize in a particular subject area." 
College Preparatory Academics
Think back to your favorite fictional boarding schools. If you exclude those for superheroes or supernatural beings, you'll likely picture an elite, academically rigorous environment. 
That's not so far from the truth: Many boarding schools were founded with the vision of providing an exceptional educational experience in a focused, scholarly environment. 
As a result, boarding schools typically offer challenging and fulfilling academic programs designed to prepare their students to excel in college. Boarding school course catalogs frequently feature advanced placement (AP) classes and specialized subjects such as Latin, astronomy, and upper-level mathematics. Through their diverse course offerings, boarding schools challenge students to discover new interests and in some cases, gain college credits. 
Interlochen Arts Academy offers a wide range of engaging courses, such as Intro to Psychology, Contemporary America, Financial Literacy, Probability and Statistics, Forensic Science, and Regenerative Agriculture. Academy students can also earn college credit by enrolling in one of the Academy's Advanced Placement or Indiana University Advance College Project courses.  
Academic faculty at boarding schools are experienced educators with proven records of pedagogical excellence. Many hold the highest possible degree in their field of study. Boarding schools maintain small student-to-faculty ratios to guarantee each student receives individualized attention from these exceptional educators.
Fostering Personal Growth
At boarding schools, students are allowed an unprecedented level of autonomy. That means you'll be in charge of doing your own laundry, keeping your room clean, and getting ready for class on time. 
If that sounds intimidating, take a deep breath: Many boarding schools offer special training programs to help first-time students master these skills. Through the boarding experience, you'll navigate communal living with a greater level of supervision and support than you would receive at the college level, helping you build the independence and confidence you need to thrive in your next chapter.  
"Over the past two years, I have become more independent and learned to trust myself," says Micah Blair, a senior harp major. "I have also developed a proper structure and work habits to ensure I stay on track and complete all my work while leaving space for free time. Because of this experience, I am confident I will thrive in college and smoothly adapt to the new environment, enabling me to make the most out of my first year."
Ari Han, a junior violin major, agrees. "The boarding experience at Interlochen definitely prepares you for the future—wherever that may be," he says. "Regardless of where you end up after Interlochen, the skills of communication, collaboration, and time management are definitely helpful."
Building Lasting Relationships
High school friendships run deep, but boarding school friendships are on another level. Many boarding school alumni stay in touch with their friends well into their college and professional  careers—or even for the rest of their lives. 
"While most people your age are still living at home with their parents, you're learning and growing alongside your friends during one of the most influential and important stages of your life," says Grace O'Connor, a second-year Film & New Media major. "These people become your family."
For students at specialized schools, shared passion creates an additional layer of connection and understanding. Students at Interlochen Arts Academy often refer to this phenomenon as "finding your people." 
"When I arrived at Interlochen, I knew I had made the best decision of my life," Caise says. "It was so easy to fit in and make friends, as everyone has similar interests and hobbies." 
Specialized Instruction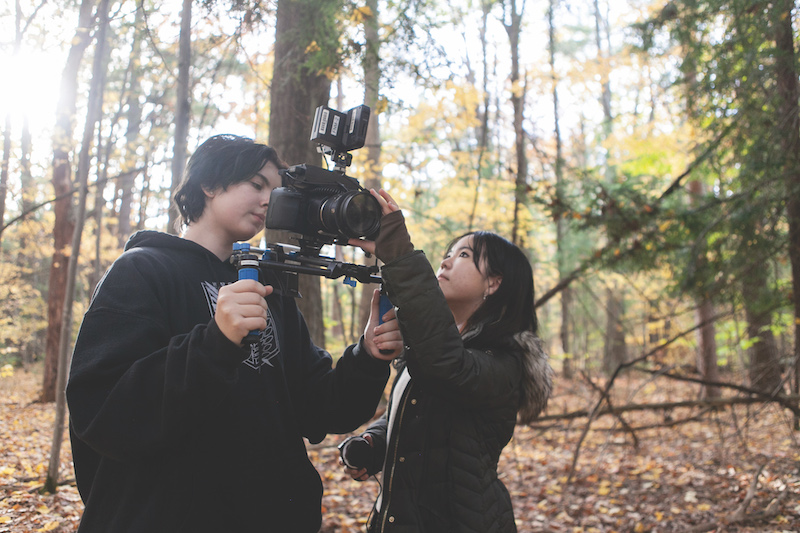 If your career aspirations lie outside academics, don't write boarding school off: whether you want to be a professional filmmaker, an Olympic skier, or a travel blogger, there's a boarding school for you.  
Specialty boarding schools offer programs in a variety of subjects, allowing you to pursue advanced training in your area of interest before the college level. At these specialized schools, you'll have access to world-class faculty and professional caliber resources that might not be available at your local high school.
"Coming from a small city in Virginia, I had little to no opportunities to perform on stage," Han says. "At Interlochen, I get coachings and lessons in chamber music, orchestral playing, and other topics from some of the best teachers you can find at the high school level."
Specialty boarding schools also curate once-in-a-lifetime experiences that will help you reach your goals and envision your future. 
"We recently played a concert with members of the New York Philharmonic in the newly renovated David Geffen Hall," Han says. "I'm one of a very small number of high schoolers who can say they've had this type of experience." 
Ready to take the next step on your boarding school journey? Learn more about Interlochen Arts Academy and download our free guide, "11 things first-time arts boarding school students should know."