Why should you include music from the Great American Songbook in your repertoire? We asked Grammy winners, Broadway stars and Songbook Academy alumni, who are now studying at top universities and working professionally, why they keep these songs in their audition and concert books. Explore new repertoire and find an audition song that speaks to YOU before Songbook Academy applications open December 15 on Acceptd.
Extra perk: Press play on this Spotify playlist of songs discussed by these fabulous singers. Can you hear differences in how each artist has interpreted and arranged these timeless songs, otherwise known as "standards"?
Richard Watson (2021)
Aspiring songwriter studying at the Berklee College of Music
To me, Standards in your repertoire are key to accessing a myriad of scholarship, college and performance programs. I auditioned with my favorites for the top music programs represented around the world and because I was bringing a different "flavor" to the table of voice performance, I was seen as "golden". I was considered for programs with UCLA Global Jazz, USC Thornton Popular Music, CalArts, Frost Miami, NYU Steinhardt, CollArts Australia, Belmont's Curb College in Nashville and Berklee College of Music in Boston. Hardly any teens were bringing to the table sounds from the most important and influential American popular songs and jazz standards from the early 20th century that have stood the test of time. Learning the Great American Songbook Standards got me lots of attention from college admissions across the globe.
After participating in Songbook Academy, I was accepted on a Global Tour Scholarship to minor in songwriting at Berklee College of Music. I began to realize that I was even more versatile in collaboration with other artists.
Songbook in Richard's book
I recently worked with another artist and we covered "They Can't Take That Away From Me," by George and Ira Gershwin and introduced by Fred Astaire in the 1937 film Shall We Dance. It's a new Great American Songbook standard for me to add to my go-to song list. It's a song we put together after a romance while in high school that had to end when we went in two different directions for college. Sad but lovely. I hope you like our version.
"They Can't Take That Away From Me" a Gershwin cover by RichOri (feat. Richard Watson and Oriana Gidi), arranged by Oriana Gidi and Richard Watson.
Artists to listen to: Peggy Lee, Billie Holiday, Michael Feinstein
Maya Jacobson (2013)
New York-based actress and singer

The best kind of rep songs are malleable and you can put a different twist on them or create a different arrangement, and Great American Songbook songs are so good for that.
Songbook in Maya's book
I have a few Great American Songbook songs I cycle through because they're so good, but right now "Skylark" and "Bei Mir Bist Du Schön," which was my choice at Songbook Academy, are my go-to songs.
"Skylark" Songwriters: Hoagy Carmichael and Johnny Mercer
Artists to listen to: Aretha Franklin, Dinah Shore, Mel Tormé
Helena Beltrão (2016)
Recording artist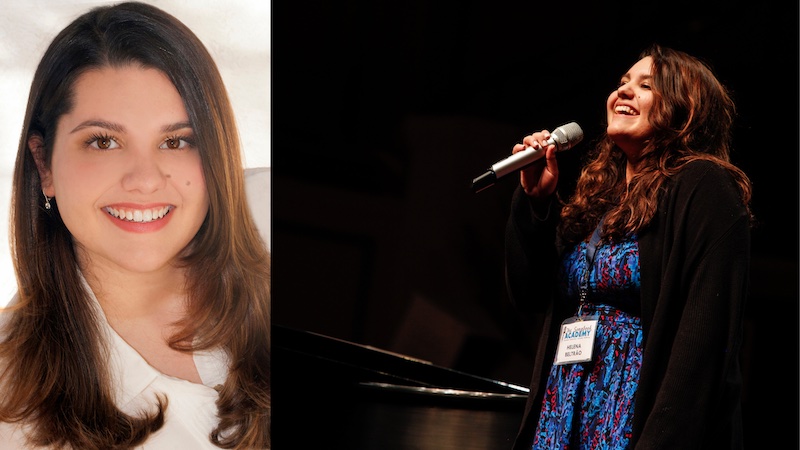 The Songbook Academy was one of my favorite experiences while I was in High School. I finally felt I belonged somewhere and it led me to have an even deeper appreciation for the Songbook repertoire. I embrace the classics and consider myself an "old soul," I love the raw connection, old school romance and how this music has the ability to transport me back to a different time. I believe it is important to appreciate the classics and understand the music from back then that has led us to the music of today. I encourage everyone, no matter your age, to listen to the Songbook repertoire and find your own connection to it!
Songbook in Helena's book
My go-to song I use from the Great American Songbook repertoire for auditions/concerts at the moment is "Misty" or "Something to Live For." As a Brazilian I love any Tom Jobim and João Gilberto tunes and adding my Brazilian touch to any of the classics!
"Something to Live For" Songwriters: Duke Ellington and Billy Strayhorn
Artists to listen to: Ella Fitzgerald, Carmen McRae, Duke Ellington
Mel Shore
Music Director, performer, arranger
My go-to song all the time, no matter what is "All the Things You Are." Why? It goes through so many different keys, so not only is it really exciting for instrumentalists to play and takes some thinking on our part, but the lyrics and melody are beautiful. When I'm teaching a jazz or piano student, I always have them study this song because I feel it brings everything to the table that's important to be able to learn about this genre.
Video of Julia Cooper (top 20 finalist on NBC's The Voice), Songbook Academy 2016
Artists to listen to: Shirley Bassey, Margaret Whiting, Tony Bennett
Why Our Broadway and Grammy-winning Mentors Sing the Songbook
Telly Leung, Broadway actor (Aladdin, RENT, Glee)
I think so many young people come to the Songbook Academy as fans of contemporary musical theatre and I think that for many of them they love all of those shows that we love like Wicked, Spring Awakening and Rent, and yet all of these shows have a foundation and have DNA in the classic American Songbook genre. None of those shows would exist without all of the incredible work that was done by Rodgers, and Hart, and Hammerstein and Kern and Gershwin, and so, for anybody who's a fan of contemporary musical theatre or the rock musical or of modern musical theatre, I think it's so important for them to know the history of where that comes from. It comes from the great tradition of the American Songbook.
Catherine Russell, Jazz and Blues vocalist and Grammy Award winner
The Great American Songbook is the best source of great songwriting that exists. The song structures, the craft of writing lyrics, how you write vowel sounds over long notes, just the pictures, the images that the songs evoke. You're not going to get better writing than the songs of the Great American Songbook. This teaches us how to relate to an audience, it teaches us how to expand our internal lives as we sing a song, how to personalize a song, it teaches us about diction because everybody has to understand all the lyrics, the melodies are gorgeous, and you can get deeper and deeper in this material, you'll never finish studying this material. It's fabulous. This is the best of the best.
Michael Feinstein, Founder and 5-time Grammy nominee
The importance of the Great American Songbook is very deep and entrenched in the history of our country. One of the things that strikes me about these songs is that you can learn about anything through music and lyrics of these creations. Songs have been written about every conceivable thing one can imagine. These songs are transformative, not only in an educational way, but in an inspirational way. I hope you'll join me this summer at the Songbook Academy!
Songbook in Michael's book
Frank Sinatra's recording of "I've Got You Under My Skin" still is one of the greatest single combinations of perfect orchestration and perfect vocal technique, working with Nelson Riddle. That recording started a whole new era of how to interpret these American popular songs. Now, most people think of the Great American Songbook in terms of the way Sinatra sang the songs, so that's a tremendous influence. And it's sort of like "I've Got You Under My Skin" was the shot heard `round the world, the musical shot that is.
Listen to more of Michael's favorite songs.